Episode 2:

Ability Is Nothing Without Opportunity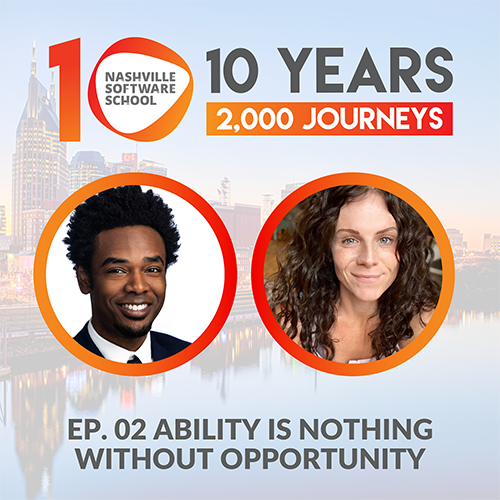 From day one, NSS saw the need for more local tech talent as a way to create paths for individuals to access high-paying careers who are financially disadvantaged or are from under-represented groups in tech. In this episode, host Clark Buckner sits down with two NSS alumni who have made the most of the opportunities available through NSS. Listen now on Apple Podcasts, Spotify, Google Podcasts, or SoundCloud.
Episode 1: The History of NSS with John Wark

In the first episode, host Clark Buckner catches up with Nashville Software School Founder and CEO John Wark to discuss everything from NSS's conception, to the opportunities available to Middle Tennesseans for careers in tech. They also take a moment to look at what might be in store for the future of NSS. Listen now on Apple Podcasts, Spotify, Google Podcasts, or SoundCloud.

View Episode 1

Episode 0: Trailer

2022 is Nashville Software School's 10 year anniversary and we're celebrating all year long! Each month we are releasing a new episode of a special podcast series, 10 Years | 2,000 Journeys: Celebrating 10 years of Tech in Nashville! Join us as we look at the growth of the tech community in Nashville over the last 10 years, and look ahead towards the next 10 years! Our kickoff episode premiers later this week, featuring a conversation with NSS Founder John Wark! Check out this trailer to discover what's ahead! Listen now on Apple Podcasts, Spotify, or SoundCloud.

View Episode 0

Welcome to Stories from The Hackery, a podcast series centered around stories from Nashville Software School graduates, employers, or instructors.
Stories From The Hackery provides an opportunity for our graduates to tell the story of their journeys from their prior careers to their start in tech. It's also a channel that allows our hiring partners to communicate why they hire junior developers, lessons they've learned on how to onboard junior developers, and suggestions for the best ways to help junior developers grow. Finally, the podcast gives us a way to share lessons we've learned about how to develop promising new talent, share opinions about tech education and the local talent market, and otherwise help the community learn about what goes on here at Nashville Software School.
You can find all of our podcasts on Soundcloud.
The most recent episodes of our podcast series, Stories From The Hackery, are now available on the same platforms as your favorite podcasts! Find out what it takes to start a career in Software Development, Data Analytics, Data Science, or UI & UX Design from those who made the leap.
Original episodes from Stories From The Hackery