BECOME A UI/UX DESIGNER / FRONT-END DEVELOPER
Do you have a background or interest in design that you want to apply to a new career in technology? Do you want to learn how to design for the user? What if you had the skills to design an intuitive web application and then build it?
Our Front-End Web Designer/Developer Bootcamp is a specialized version of our Web Developer Bootcamp. This bootcamp will train you to work across the entire spectrum of front-end design and development. You will be trained in User Experience (UX) design, User Interface (UI) design and the implementation of those designs into working code in the browser (front-end development).
What does a career in Front-End Web Design & Development look like?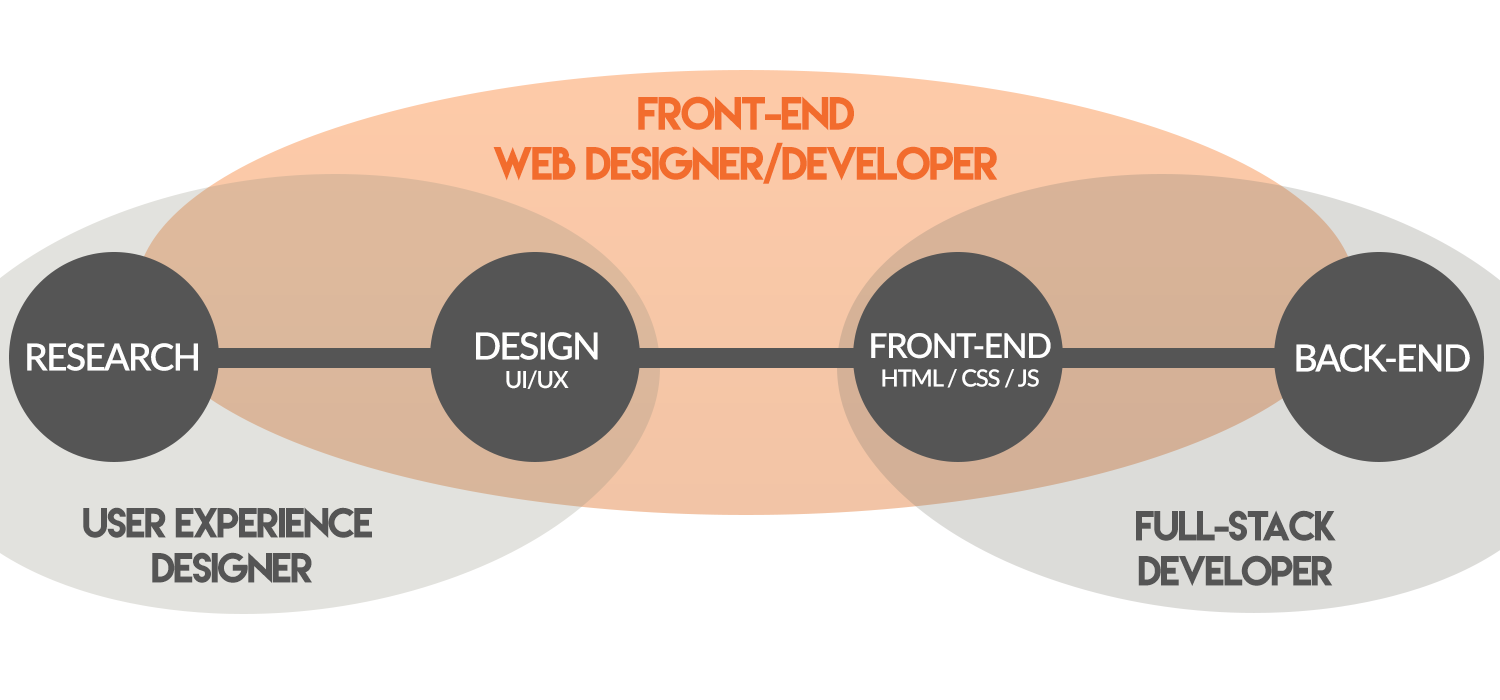 Graduates can secure jobs in User Experience Design, Website Design, User Interface Design, Front-End Development, or in hybrid roles that utilize multiple of these skill sets.
What You Will Learn
This program will give you an intensive, immersive introduction in the skills required to execute the role of a front-end web developer and build websites, front-end web applications, hybrid mobile applications, etc. It is not only a design program - it is a immersive exploration of what it takes to actually design, build and deliver usable interactive experiences.
It is divided into 2 halves, front-end development and UI & UX design, and includes our career development track where you will be preparing to move into a front-end web designer or developer role.
Front-end Development (First Half)
HTML & CSS

Learn how to structure webpages using semantic markup in HTML5 and then style those pages using CSS3.

JavaScript

Learn the basics of programming using JavaScript - the world's most widely used programming language. Use JavaScript to extend your static HTML & CSS and create dynamic user experiences.

Component-Based Framework

Learn to build amazing single-page applications using a React-based framework.

Source Code Control

Learn how to use Git to safely manage and track changes in your code. Learn how to use Github to collaborate with other developers on our team or around the world.

Collaborative Development

Gain extensive experience collaborating with teams in an environment that simulates real-world product development, preparing you to work on a team when you graduate.

Front-end Capstone

Complete the first half of the program by concepting, designing, building, testing, and presenting an application that showcases your foundational web development skills.
UI & UX Design (Second Half)
UI and UX Concepts

Learn industry practices for designing user-centric applications. Learn how to identify & understand stakeholder problems, define personas and journeys, and communicate your solution through design.

Wireframes and Prototyping

Learn how to implement your designs with pen-and-paper rapid prototypes. Iterate over your design concepts and use common industry tools for creating interactive, high-fidelity prototypes.

Responsive Design

Build websites for any device with mobile-first design. Learn common grid frameworks and media queries to optimize your design for any screen size.

Design Library Development

Learn how to design and develop a design library using React and Storybook.

Final Capstone Project

Leave NSS with a deployed design, component library that merges front-end development and UI development using all the skills you have learned during your time at NSS.

Career Preparation

Throughout both halves of this program, you'll meet working developers and designers from several industries. We'll hold workshops on resume preparation, marketing yourself, interview preparation, negotiating, and more as well as focused preparation for solving technical interview challenges. You'll get interview practice in mock scenarios with real hiring managers and senior engineers. You will demonstrate your technical ability, teamwork, and professionalism. And we'll introduce you to prospective employers, share job postings, and support you after graduation during your job search. Our job isn't done when you graduate, it's done when you get your first job in tech.
Schedule

This program is only offered part-time, see below for schedule details.

Location

This class is remote.


Dates

See upcoming program dates below.
Schedule Details
First half:

Duration: 6 months
Monday & Tuesday | 6 - 9:30 pm CT
Saturday | 9 am - 2 pm CT
Study group - 3.5 hours during the week




Second half:

Duration: 5 months
Monday | 6 - 9 pm CT (Class will be held on Tuesdays following these holidays: MLK Day, Memorial Day, and Labor Day)
Some Tuesday evenings and Saturday mornings will also be required for Career Development events and additional lab hours.