BECOME A UI/UX DESIGNER / FRONT-END DEVELOPER.
Do you have a background or interest in design that you want to apply to a new career in technology? Do you want to learn how to design for the user? What if you had the skills to design an intuitive web application and then build it?
Our Front-End Web Designer/Developer Bootcamp is a specialized version of our Web Developer Bootcamp. This six month full-time bootcamp will train you to work across the entire spectrum of front-end design and development. You will be trained in User Experience (UX) design, User Interface (UI) design and the implementation of those designs into working code in the browser (front-end development).
What does a career in Front-End Web Design & Development look like?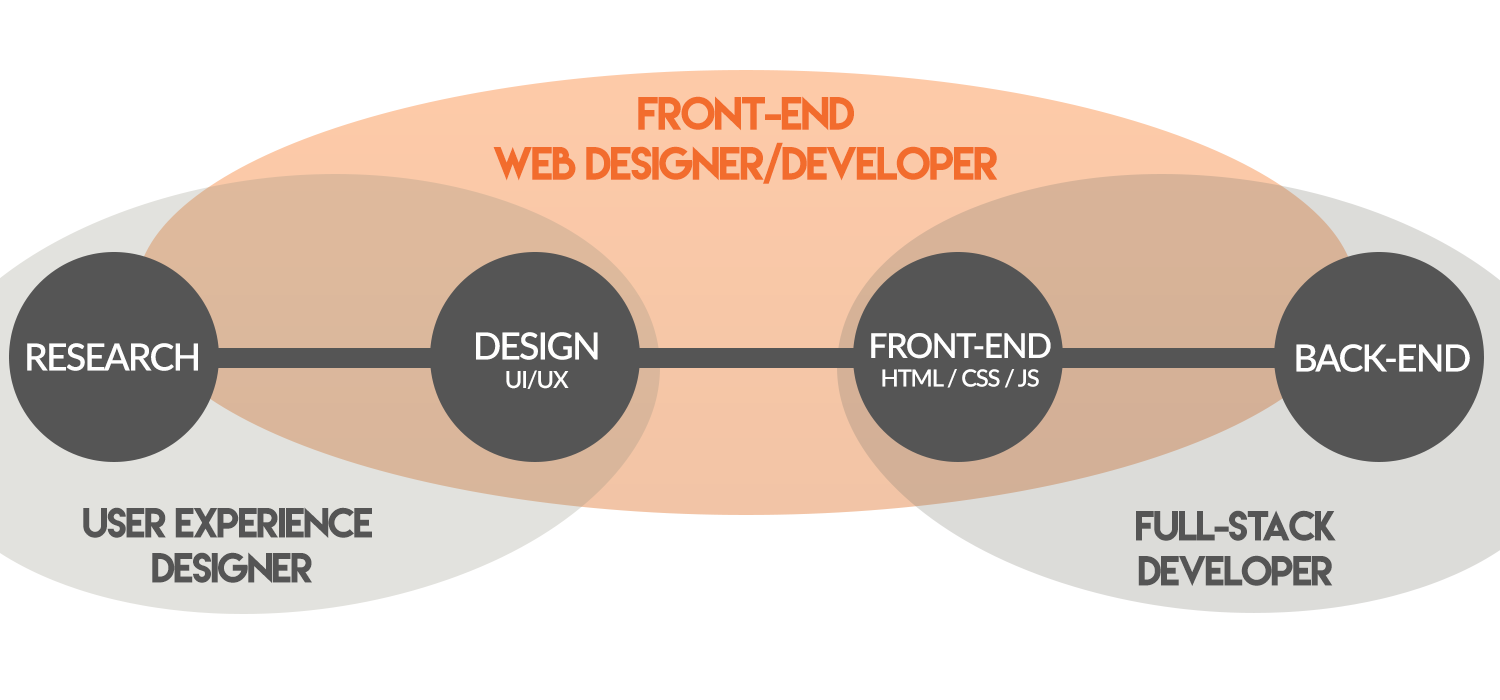 Graduates can secure jobs in User Experience Design, Website Design, User Interface Design, Front-End Development, or in hybrid roles that utilize multiple of these skill sets.
Do you have a design background and want to become a front-end developer, UI/UX designer, or a combination of the two? Hear from the graduates of our first Front-end Web Designer/Developer bootcamp. In their podcasts, they share about the projects they designed and built and what led them to NSS.
Program Highlights
Full-time course load with classes meeting M-F from 9am-4pm
6 month commitment
Homework and individual projects for nights and weekends
Ideal for people with some training and/or experience in design but that want to extend their skills into the area of digital product design and development.
What You Will Learn
This program will give you an intensive, immersive introduction in the skills required to execute the role of a front-end web developer and build websites, front-end web applications, hybrid mobile applications, etc. It is not only a design program - it is a immersive exploration of what it takes to actually design, build and deliver usable interactive experiences.
UX and UI Design Concepts

Learn industry practices for designing user-centric applications. Learn how to identify & understand stakeholder problems, define personas and journeys, and communicate your solution through design.

Wireframes and Prototyping

Learn how to implement your designs with pen-and-paper rapid prototypes. Iterate over your design concepts and use common industry tools for creating interactive, high-fidelity prototypes.

HTML & CSS

Learn how to structure webpages using semantic markup in HTML5 and then style those pages using CSS3.

JavaScript

Learn the basics of programming using JavaScript - the world's most widely used programming language. Use JavaScript to extend your static HTML & CSS and create dynamic user experiences.

AJAX, jQuery, JSON & More

Learn to use JavaScript libraries and advanced techniques to build applications and more complex single-page web apps.

Component-Based Styling

Learn how to design your applications with "reusable and maintainable" elements in mind. Use CSS methodologies and conventions, as well as common tooling like SASS to create maintainable stylesheets.

Responsive Design

Build websites for any device with mobile-first design. Learn common grid frameworks and media queries to optimize your design for any screen size.

Component-Based Framework

Learn to build amazing single-page applications using one of the leading modern frameworks (eg. React or Angular2+).

Node.js

Learn the basics of JavaScript on the server-side. You will be introduced to basic tooling, like Express router, common packages, and deployment of your application through Heroku.

Collaborative Development

Gain extensive experience collaborating with teams in an environment that simulates real-world product development, preparing you to work on a team when you graduate.

Source Code Control

Learn how to use Git to safely manage and track changes in your code. Learn how to use Github to collaborate with other developers on our team or around the world.

Capstone

Leave NSS with a completed capstone project that demonstrates your ability to design for the user, code, test, and deploy working web apps.
Schedule

Monday thru Friday

9AM - 4PM CT

Location

This class is remote.


Dates

To be announced

-
Requirements
Student prerequisite knowledge/experience
At least 18 years of age

American citizen or legally able to work in the U.S.

Due to regulatory constraints, we are unable to accept students residing in the state of California at this time.

Preferred background in design or related field, whether through formal training, self-study,and/or work experience.

High school diploma (or equivalent) or a passing score on our ATB test (approved by DPSA).
Hardware/Software
Personal laptop meeting our hardware requirements. See this blog post for full details of our laptop specs.

Accepted students will be given requirements for software to be downloaded prior to the start of class. It is not expected that any such software will have a cost as the class will focus on teaching data science using open source technologies.
Other Considerations
All accepted students will be assigned pre-work that is expected to be completed in the weeks prior to the first class session. We target having classes full approximately six weeks before the first week of class in order to give students time to complete the pre-work on a part-time basis.

This class does not require prior professional or academic experience in programming. However, if you have no prior exposure to HTML, CSS or, JavaScript (or other programming languages), we suggest pursuing basic self-study or an introductory class such as our Web Development Jumpstart to explore your aptitude and interest in using these tools. You don't necessarily need to pursue self-study prior to applying, but we do suggest you give yourself time to investigate your interest in coding prior to interviewing or at least prior to when you might receive an offer. Your comfort with this career direction based on hands-on exploration can be an important "tie-breaker" when it comes to making decisions as to who gets offers to enroll in the class.
Tuition
There are two tuition plans at NSS: Standard Tuition or Nashville Opportunity Tuition. Out of 25 seats in each cohort at NSS, our goal is to have at least 12 be Opportunity Students and the remainder paying standard tuition. A limited number of grants and scholarships are also available for students from underrepresented groups.
Standard Tuition
Tuition for this full-time Web Developer Bootcamps is $13,125. (Read this blog post for more information on our recent tuition increase - effective for bootcamps starting February 2023 and later.)
We request a $5,000 deposit on acceptance of our offer of admission. The balance is due at enrollment on the first day of class. You may also elect to pay the balance during the six months of the program through an approved payment plan, as discussed below. See below for other financing and payment options.
Nashville Opportunity Tuition
Our Nashville Opportunity Tuition allows you to defer most of the cost of your training until you graduate and go to work as a software developer. You will pay us $1,500 as a tuition deposit on acceptance to the program and then nothing more until after graduation.
This program is a mutual risk-sharing program between NSS and the Student. NSS invests in the student through a scholarship and through deferring the balance of the student's tuition until the student a) graduates and b) becomes employed as a developer. Until those conditions are met, the student does not owe NSS the tuition balance.
Once you go to work using the skills you learned at NSS, we'll work out a payment plan for you to reimburse NSS. We also have a limited number of partner companies that are willing to reimburse part or all of your tuition.
Initial tuition deposit of $1,500, due on acceptance of our offer of admission
$2,500 scholarship
$9,125 tuition balance to be repaid on employment as outlined above
Selection criteria for the Nashville Opportunity Tuition includes:
Limited to Nashville area residents or individuals who grew up in Nashville/Middle Tennessee and have strong family and personal connections to the area
Limited to students that are committed to staying in Middle Tennessee post-graduation
Priority is given to students whose economic circumstances would otherwise prevent them attending Nashville Software School
Priority is also given to individuals from groups that are under-represented in tech careers (e.g. women, Veterans, Black individuals, etc.)
A limited number of cost-of-living stipends are available on a needs-driven basis to Opportunity Students during the final 3 months of the program.
Financing/Payment Plans
Payment Plans
If you are paying for regular tuition out-of-pocket, there are two payment options:
Pay the full tuition before the first day of class and receive a $625 discount. (Scholarship and student loan recipients are not eligible for the discount for early payment.)
Pay the required deposit on offer acceptance and then 50% of the tuition balance on the first day of class. The remaining 50% of tuition will be due halfway through the course (i.e, 3 months after enrollment).
Student Loans
To provide additional financing options and support for our students, we've partnered with Climb Credit and Sallie Mae. We encourage you to consider both options and choose the one right for you. Both are free to apply!
*Please note that your deposit cannot be included in your loan (i.e. you cannot borrow the full tuition cost) and funds cannot be borrowed to cover living expenses.
Climb Credit provides simple, fast, and affordable loans to help you meet your career and financial goals. Climb Credit offers fixed interest rates on 36-month terms (subject to approval). To learn more and apply, click here.

Details for Web Development:

Deposit due to NSS: $1,500*
Maximum amount you can borrow for the program: $11,625
Length of Loan: 36 months

The Smart Option Student Loan* can help you cover tuition costs. You can choose from multiple repayment options that help you while you're in school. To learn more, click here.

*This loan is available for tuition only and will not cover additional funds for living expenses, like housing and transportation.

Details for Web Development:

Deposit due to NSS: $1,500*
Maximum amount you can borrow for the program: $11,625
Length of Loan: Tenor up to 10 years

Applicants should reference the administrative processing code 609570-00 when contacting Sallie Mae.

*Please note that your deposit cannot be included in your loan (i.e. you cannot borrow the full tuition cost) and funds cannot be borrowed to cover living expenses.
Have Questions?
Upcoming Info Sessions