Nashville Software School (NSS) is a place where a person with aptitude, motivation, passion and commitment can learn the craft of software development. Our intensive training and apprenticeship program dramatically accelerates learning about and access to the world of programming. Give us six months and we'll prepare you for a job as a junior-level web developer.
Our Story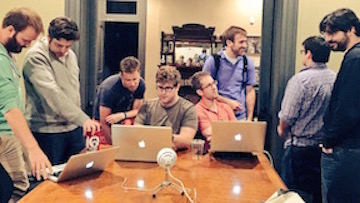 NSS began from conversations amongst friends, passionate technical professionals, who had the desire to launch a learning community for software development in Nashville. The idea was to teach programming languages and frameworks that enable individuals to start new careers as junior-level web developers. NSS was the first program in the country to teach a six-month web development program and is proud to be the first coding bootcamp in the entire Southeast region.
Our Success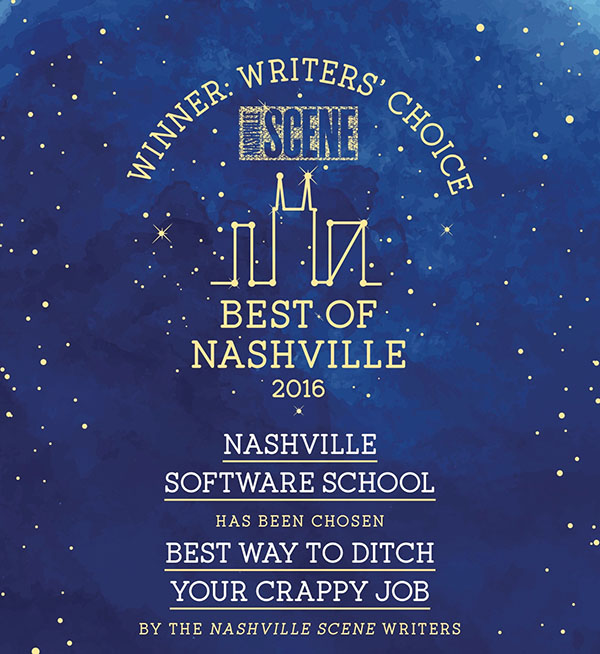 The popularity of the coding-bootcamp model has certainly grown in recent years. NSS has a placement rate of nearly 90% of our students securing full-time positions upon graduation. Yet as our numbers increase, we remain consistent in our mission to serve as the primary pipeline for homegrown tech talent in the greater Nashville area. That's just what we do best.
June 2017 marks the fifth year of NSS offering intensive training to those seeking to acquire new skills, change careers, and enhance professional networks. Each student adds to the imprint of our programs. NSS will teach you new tools and technologies that prepare you for job opportunities in web development.
The Nashville community has acknowledged the impact of Nashville Software School grads by recognizing NSS as one of Nashville Scene's Writers' Choice Best of Nashville 2016 as "Best Way to Ditch Your Crappy Job."