Work by Day, Code At Night
Do you aspire to become a web developer, software engineer and/or mobile developer? Can't attend our full-time program because you need to keep your day job? Our part-time evening program allows you to begin learning the skills needed to become a developer while maintaining a regular work schedule.

Flexible, Intensive Learning
The Evening Developer Bootcamp covers the same curriculum as our six month full-time immersion program. However, it is structured in a flexible, part-time evening and weekend format over the course of twelve months. You also have the option to accelerate your graduation by switching to the full-time program for the second half of the curriculum.
Visit the links below to know more about the technologies covered in each of our classes.
Learn more about the Front-End Foundations Class.
Learn more about Software Development Foundations with C#/.NET.
Schedule
The Evening Developer Bootcamp schedule is structured with 2 components: classroom hours and weekly study groups.
Each week of the Evening Developer Bootcamp includes:
Two Evenings: 3.5 hours of instruction - see specific course page for designated evenings
Saturday: 5 hours of instruction
One Evening: 3.5 hours of group study - day of the week is flexible
Blended Learning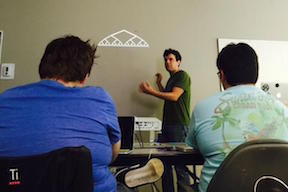 Our curriculum is a carefully curated collection of online and video tutorials, classroom exercises and seminar-style discussion. There are exercises for solo and pair programming as well as larger team projects. It's all designed around hands-on learning by doing. You'll gain both the technical knowledge as well as the soft skills you need to work as a developer. You'll have every opportunity to push yourself hard, to learn fast and to learn deeply.
Flipped Classroom
You won't be able to spend as much time in the classroom as in our full-time day program. No problem — you will prepare for classroom sessions through online videos and tutorials, readings, research and coding exercises. The classroom focuses less on lecture and more on hands-on coding, problem-solving and collaboration with the instructors and fellow students.
Software development is a team sport, so we're not going to make you do it by yourself. You'll have the chance to learn from and be mentored by some of the smartest, most experienced software developers in Nashville. They'll help you figure out how to solve problems and how to get unstuck and recover from mistakes. They'll give you insight into the paths that they have taken to develop their career. We'll also help you get connected into the fast-growing Nashville tech community.