NSS mentors support our students by providing valuable insights into real-world development and encouraging our students to be their best. In turn, our mentors are able to truly give back to the development community and get the satisfaction of helping launch a new developer on their professional path.
Mentors play a special role in the NSS experience and are key in fostering relationships that give students a fuller understanding of the true scope of a professional developer. The dialogue between mentors and mentees provides emotional and professional support in challenging situations and throughout the student's transition from the classroom to landing that highly-desired first job as a software engineer.
What's Involved?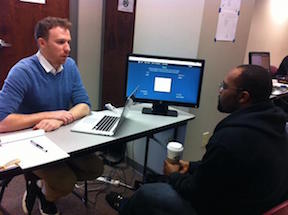 An NSS mentor is asked to support their mentee during the last six to ten weeks of their bootcamp and into the first few weeks of their job search. We ask our mentors to be prepared to meet in person with their mentee once a week for 60 to 90 minutes. We also ask that the mentor be available to provide support/question-answering via online chat, messaging, email, etc. on a daily basis. Our mentors and mentees generally work out the details of how they will interact to suit their specific schedules and situations.
Mentors may help mentees with both technical and career questions. They can help answer specific technical questions, help trouble-shoot issues, perform code reviews, or generally discuss technologies or the design of student applications. Mentors also often help with career-oriented questions about the job search process, interviewing, etc.
Apply to be a mentor