Become a UI/UX Designer & Front-End Developer.
The Front-end Web Designer/Developer Bootcamp is a new, specialized version of our Web Developer Bootcamp. Rather than graduate a traditional full-stack developer, the new program is intended to train students to work across the entire spectrum of front-end design and development tasks. Students will be trained in User Experience (UX) design, User Interface (UI) design and the implementation of those designs into working code in the browser. We think of this class as preparing students to be "full-stack front-end developers".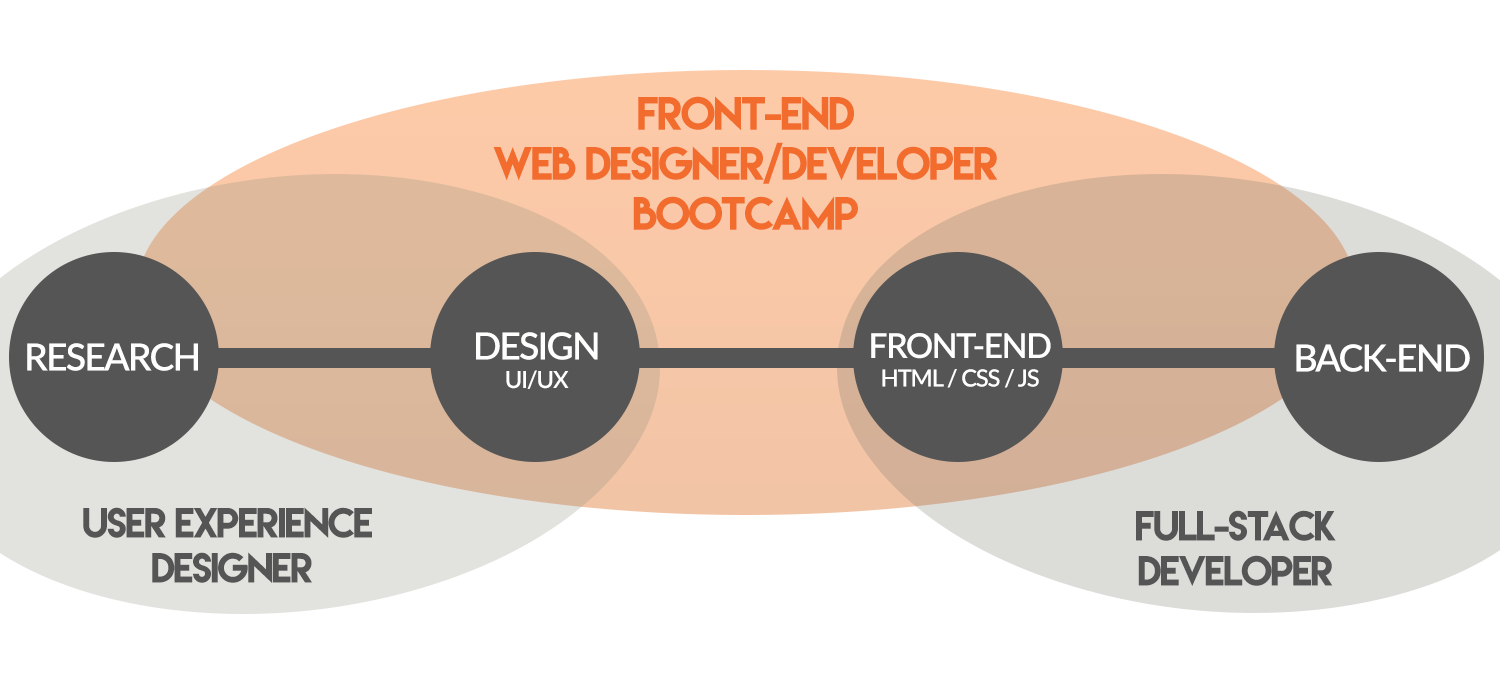 When we look at the career trajectories that many of our graduates have taken, and when we talk with many development managers, it is clear that this hybrid designer/developer role is very real. We believe the growth in demand for this skill set has been driven over the last five years by several trends: the dramatic increase in complexity of the browser tech stack as an app development and deployment platform, the increasing complexity of designing and developing usable interfaces in a multi-device/multi-form factor environment, and the non-stop nature of change and evolution of all of the above.
We expect that this bootcamp will be particularly appropriate and attractive to individuals that already have some training and/or experience doing design work but that want to extend their skills into the area of digital product design and development. Our current thinking is that our first Front-end Web Designer/Developer Bootcamp will launch either in mid-November 2017 or January 2018. But that's subject to THEC approval in July.
We will start to share more information about the syllabus/curriculum for this new program over the next few weeks so that we can solicit feedback from the community. If you want to receive updates on the program as they are released, or if you would like to provide input regarding this new program, sign up for the email list on this page.
Note: Before NSS can formally launch any new program we must first receive program approval from the Tennessee Higher Education Commission (THEC). This program has been submitted to THEC and will hopefully be approved by the commission during their July meeting. Any dates on this page are speculative and based on the assumption that the programs will be approved in July. This page is not intended to solicit interest from potential students but only to share information about our plans with our alumni, our partners, and the Nashville tech community.