Introduction
So you're ready to login to a new career?
The demand for web developers in the area totaled 1,141 unique job postings last year, according to the Nashville Technology Council's 2015 Jobs Report. While these numbers see an increase annually, many of these positions go unfilled. There simply aren't enough qualified candidates. With a surplus of tech jobs abound, the real question becomes— "Why not learn software development?"
Enter Nashville Software School (NSS)
Technology powers our economy. It's the engine that drives the future of health care, of publishing, of the music and entertainment, of logistics and nearly every other industry. And Nashville has a great need for more software developers. The lack of a deep talent pool in the field isn't a problem exclusive to this region. Many major cities across the country have the same shortage. NSS began in 2012 as a proactive approach to continuously educating and homegrowing emerging software developers in Music City.
"NSS serves a specific purpose — to train the next wave of software developers who will work in Nashville's burgeoning technology industry." The City Paper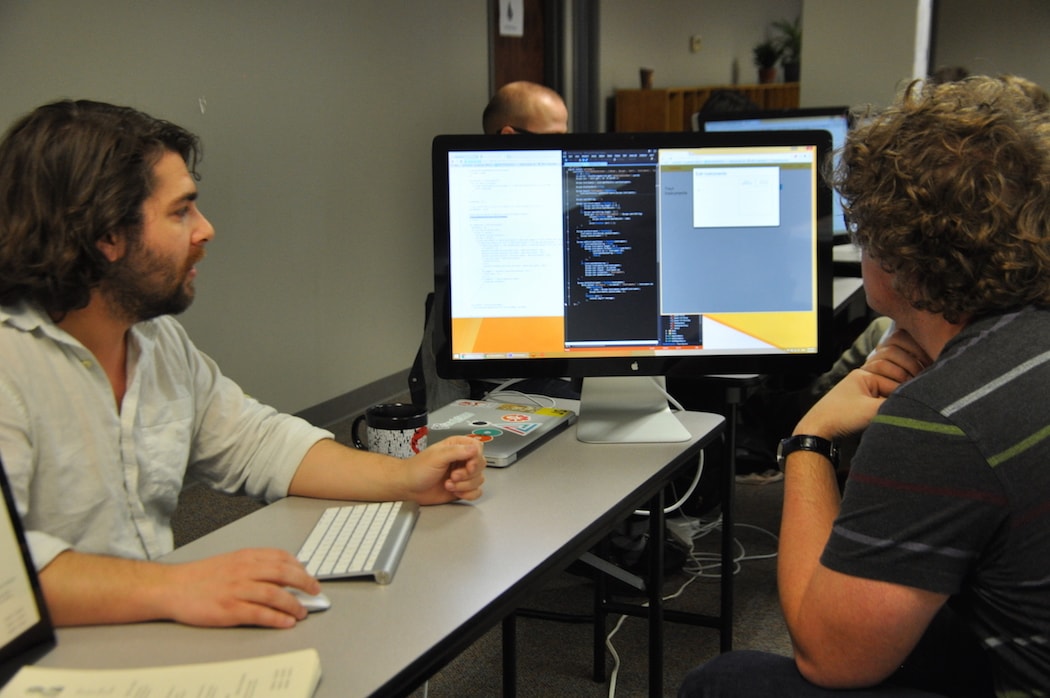 Our learning tracks:
Full-Time Immersion Program

Prepare for a career in software development. Our six-month, full-time program combines intensive learning and career preparation.
Full-time course load with classes meeting M-F from 9am-4pm
6 month commitment
Homework and class projects for nights and weekends
Best for those willing to dedicate 6 months of their life to learning to program

Part-Time Intensive Program

Keep your day job. Our evening program is a more flexible (but still intensive) alternative to our full-time program.
Part-time course load with classes meeting a couple nights a week from 6-9pm
1 year commitment for part-time option or 9 month commitment with a transition to full-time track after first 6 months
Homework and class projects each week
Best for those only able to commit evenings to learning programming

Web Development Jumpstart

Get a taste of development and gain a basic understanding of core web languages: HTML, CSS, and JavaScript.
Part-time course load with classes meeting Mondays and Thursdays from 6-9pm + Saturdays from 9am-2pm
3 week commitment
Homework and class projects each week
Best for those looking for an introduction to development and a basic understanding of core web languages

Professional Development Series

Continue learning. Build new skills with our part-time evening courses - continuing education for working professional developers.
Part-time course load with classes meeting a couple of nights a week from 6-9am
Commitment varies course to course
Homework and class projects each week
Best for those looking to learn a specific programming language
Upcoming Programs
NSS courses are designed for a person with aptitude, motivation, passion and commitment who has the strong desire to learn the craft of software development. We are a training ground for new programmers as well as those looking to supplement previous computer science coursework. We also offer a professional development series for software engineers already at work in their careers who want to stay up on the latest technologies.
Program
Type
Start Date
Front-End Web Designer/Developer Bootcamp
Front-End Web Designer/Developer Bootcamp

(6 months)

January 2, 2018 -

June 22, 2018

This class is underway.

Part-Time Web Developer Bootcamp, C# And .NET
Part-time Class

(12 months)

February 12, 2018 -

February 9, 2019

Applications closed.

UI & UX for Digital Product Design
Professional Development

(3 months)

February 13, 2018 -

May 22, 2018

Apply Now
Web Development Jumpstart
Web Development Jumpstart

(3 weeks)

February 24, 2018 -

March 15, 2018

Enroll Now
Full-Time Web Developer Bootcamp, Python And Django
Bootcamp

(6 months)

April 2, 2018 -

September 21, 2018

Apply Now
Full-Time Web Developer Bootcamp, C# And .NET
Bootcamp

(6 months)

May 21, 2018 -

November 9, 2018

Apply Now
Data Science Bootcamp
Data Science

(9 months)

August 14, 2018 -

May 18, 2019

Applications opening soon.